Well equipped with a fitness centre, a swimming pool and a choice of 380 spacious guest rooms and suites over 19 floors, Hotel Royal Macau presents the highest standards in all areas of accommodation and service. Every guest room at the hotel is beautifully appointed, using the finest furnishings in an innovative style, to create an atmosphere of contemporary luxury.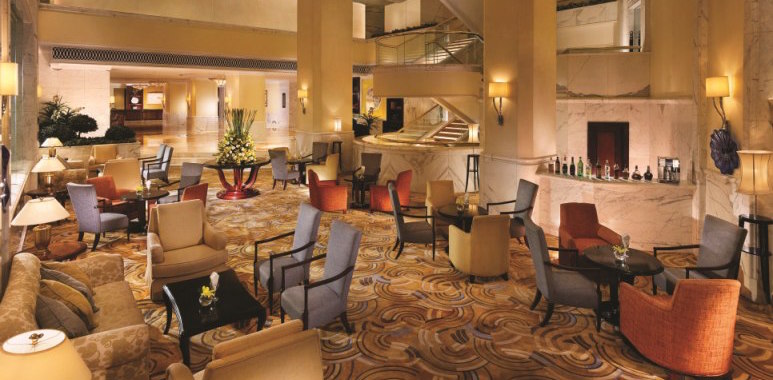 Visitors who appreciate fine dining will be well catered for by the restaurants at Hotel Royal Macau. Catalpa Garden is the home of authentic Shanghai cuisine, and four individual rooms are available for the ultimate private dining experience. The hotel's FADO Portuguese restaurant features dishes from an award-winning chef who consistently delights diners with stylish Portuguese food. Royal Bakery's pastry teams are dedicated to producing delectable cakes and pastries in over 100 different flavours. Adjacent to it, Lobby Lounge is an ideal place to meet for an afternoon tea, a glass of champagne, a piece of cake, or even weekend tea buffets.
Hotel Royal Macau is fully equipped to host business meetings and functions accommodating up to 200 people. The opulent furnishings and graceful decor of the hotel create an ideal ambience for work or leisure, and the addition of the latest technologies and a first-class service ensure every detail of the event is a success.
The hotel's recent renovation project is done by LRF Designer LTD which has enormous experience in hotel renovation, handles outstanding 5 star hotels eg. Shangri La, Intercontinental & Marriott.
Year
Details
2013

Upgrade the indoor swimming pool to stylish modern design.
A face lift for the hotel exterior and its award winning restaurant FADO.

2015-2016

Upgrade in-room amenities with large wall mounted TVs and modern furniture, curtains and carpeting.
Upgrade the function rooms AV equipment.
Address: Estrada da Vitória 2-4, Macau

Tel: +853 2855 2222
Fax: +853 2856 3008
Email: [email protected]