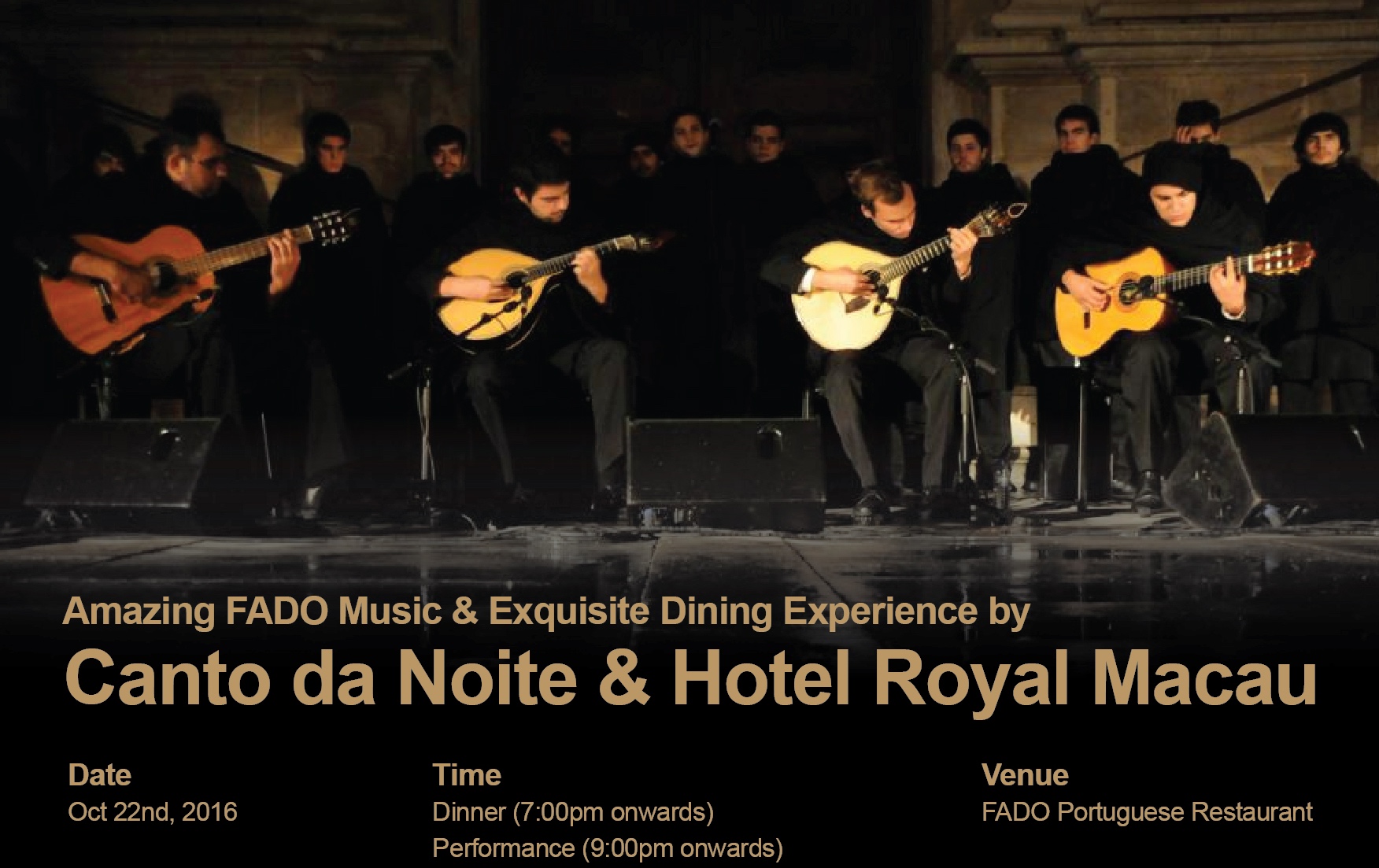 Come and see the unique Portuguese Coimbra Fado Music performed by the popular Canto da Noite while enjoying the exquisite Portuguese wine paired five-course menu at FADO at MOP 680 pax (inclusive 10% service charges). Come Experience Portuguese Culture with Us!
** Guests are requested to arrive promptly to ensure dinner and performance will commence on time.
Date: Oct 22nd, 2016
Time: Dinner (7:00pm onwards) , Performance (9:00pm onwards)
Venue: FADO Portuguese Restaurant
Menu: Can be downloaded here
Reservation Form: Can be downloaded here
About Canto da Noite
"Canto da Noite" started in July 2011 by the steadfast will of 5 students to feel and promote Coimbra Music. With 6 members in its group (2 Portuguese Guitars: Álvaro Ribeiro & António Costa, 2 Classical Guitars: Pedro Laranjeiro & Diogo Passos and 3 Singers: João Mendes da Silva, João Silva & Cristiano Sousa), they have performed widely in many cultural occasions e.g. Serenata Monumental da Queima das Fitas 2012, 2013 and 2014 (Sé Velha, Coimbra) & Serenata Monumental dos Antigos Estudantes 2016 (Sé Velha). Apart from the performing in Portugal the group also travelled to United States, Poland and Kosovo, introducing the Coimbra music and Portuguese culture around the world.