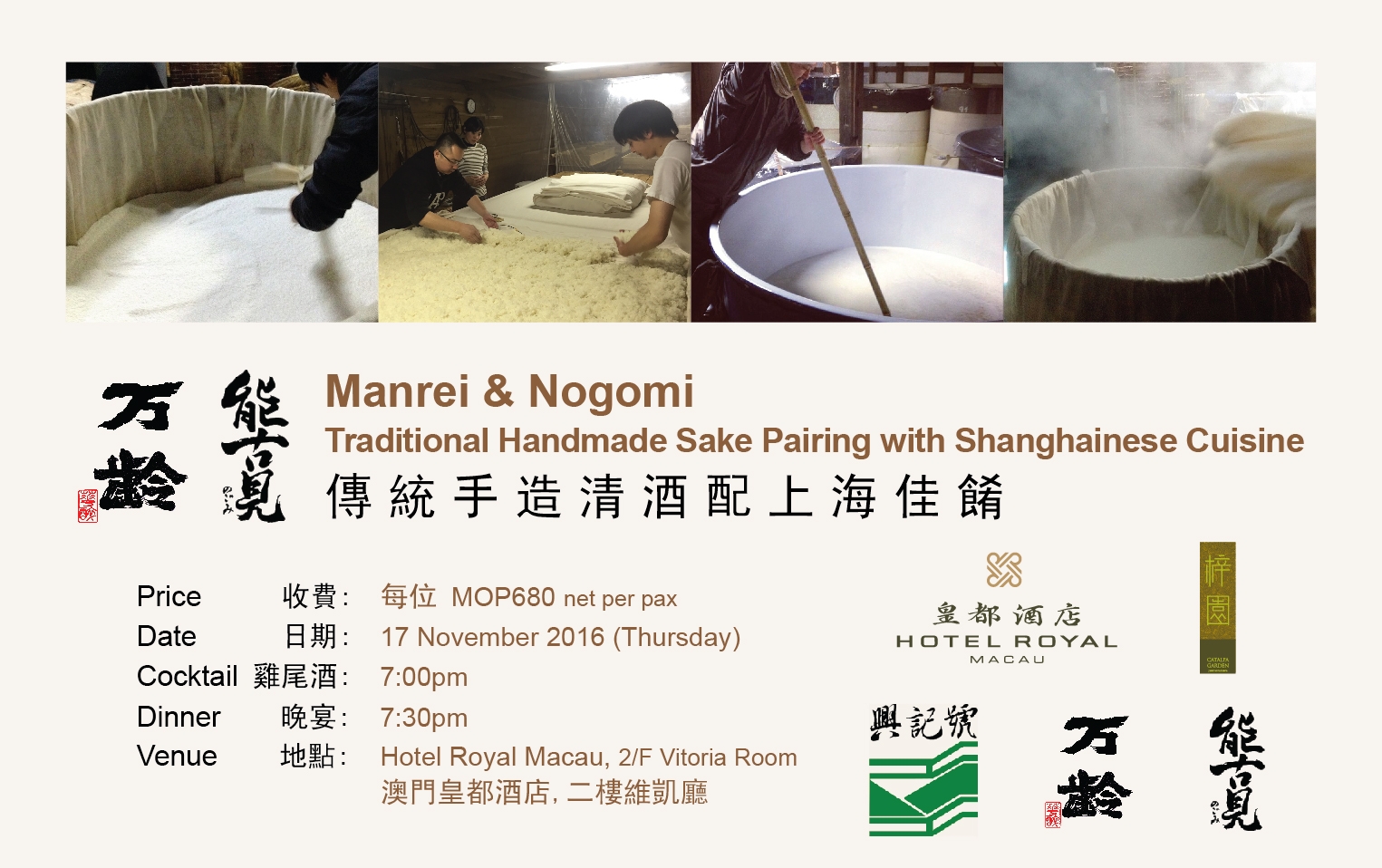 Hotel Royal Macau together with Komatsu Syuzou and Baba Syuzou proudly
present Manrei and Nogomi sake pairing dinner! Mr. Komatsu, Director of
Komatsu Syuzou and Mr. Baba, Director of Baba Syuzou will appear in
person to introduce their traditional handmade sake series!
There will be special lucky draw at the dinner!
Date: 17 November 2016 (Thursday)

Time: 7:00pm (Cocktail), 7:30pm (Dinner)
Venue: Vitoria Room
Menu: Can be downloaded here

Price: MOP680 per pax (inclusive 10% service charges)

R.S.V.P: Ms. Ivy Lam - Tel: (853) 8597 9117 / Fax: (853) 8597 9178 / E-mail: [email protected]
Learn more about Manrei / Nogomi

Manrei was founded in the late Edo period. The brewer is located in the northern part of Saga Prefecture, surrounded by the natural rich mountain range. Adhere to the traditional hand-made sake production, we are committed to brew sake the traditional hand-made way so one can enjoy the most sincere happy taste.

Nogomi brewery, surrounded by the rich sea in front and green mountains at the back, have been in business for 221 years and have long inherited the Japanese tradition and the sake culture. We carefully nurtured low pesticides Yamada Nishiki raw rice to produce our sake for one goal and mission: to become everyone's trustworthy sake.